Have You Ever Seen a Pink Elephant?
MS Surface Dial is now ready to be your natural input device to control all sliders and knobs on your DAW, VSTs, VCV Rack and more on any PC computer.
Elephant software is here, just click and hold your mouse in the object to be controlled, and turn the dial, no MIDI mapping required!
Hover mode also supported.
New! Version1.4 The Combined Mode
Elephant version 1.4, introducing Combined Mode,  now you can control vertical sliders, horizontal sliders and knobs without pre-select what
you kind of objects you want control.
New! Version 1.3 The Direct Control Mode
Elephant version 1.3, introducing Direct Control Mode,  mouse hover any object to be controlled and just turn the dial for a instant control, or just use a touch-screen, select the object with your finger,and turn the dial. No MIDI Mapping required. 
Elephant software is being able to control in a natural way knobs and sliders without the need of MIDI mapping. Since in some cases the use of MIDI could be very useful, Elephant can connect the Surface Dial with your favorite music software trough MIDI using its own port. 
MIDI  CC, mode 0/127 &  encoder mode 7Fh/01h is supported . You can adjust the sensitivity and configure MIDI  channel and CC number.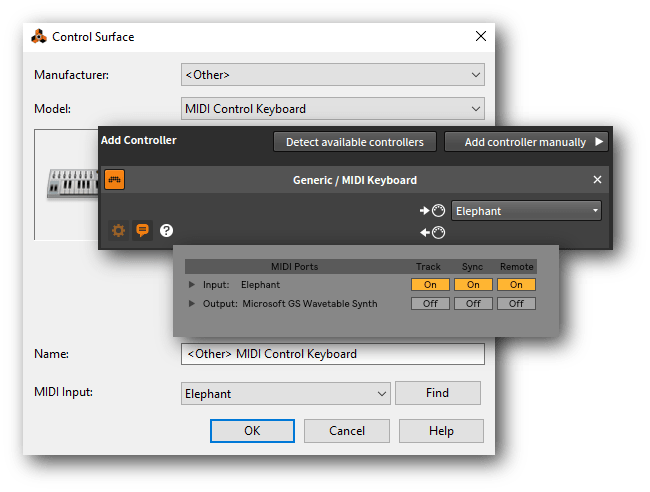 Hardware & OS Requirements
Elephant require any PC computer running Windows 10 Fall Creators or newer and a Surface Dial unit paired to your computer.
No need set up shortcut keys on the Surface Dial panel, Elephant work in instant way in a smooth and stepless way.