Chameleon 1.0.7 released!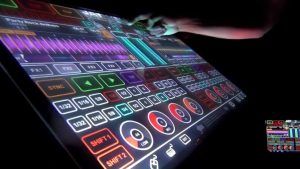 Really happy to announce the latest version of Chameleon v1.0.7
Duet a higher amount of changes are coming the web user guide of Chameleon remain outdated for some time.
Feel free to use the community forum for any question, suggestion request.
Here the change log of this version:
Bug fixes:
Containers appear out of screen when work on multiple monitors - Fixed
On first time run, some times cant handle objects after objects are created - Fixed
Chameleon crash when receive MIDI on empty template. - Fixed
Improvements:
Better system thread make more responsive all templates.
Improved render speed of all templates and object widgets.
Editor re-arranged and expanded for host new features of this and future versions.
Change at once properties as, size, radio, opacity, font, font size, colors, labelling.
Some corrections on tooltips, new tooltips covering new features.
Improvement on Halo pad touch behaviour.
New features:
Sent Control Change Messages Data Bytes.
Now is possible replicate Mackie MCU MIDI messages.
Open and place Chameleon on any monitor, any monitor arrangement.
Switch from pages trough incoming MIDI messages.
High accuracy new object handles.
New method to rotate object trough object handle, (access to this feature trough hotkey).
Direct configuration of size of objects by entering values in pixels, height and width.
Adjustable border thickness in objects.
Adjustable font size in objects support labeling.
Selectable Bold or Normal font in objects support labeling.
Hexa pad, is now customizable polygon button (renamed to Polygon).
Encoders now support sensitivity and different kind of encoder MIDI signals.
50% Knob can be converted on PAN POT / SPLITED KNOB.
Flying containers, now is possible move containers under performance mode (touch mode)
Full color picker palette:
48 predefined easy to access colors.
Full custom colors trough HEX color value.
Full custom colors, RGB, Hue, Sat, Lum & gamma bar.
Dual color supported in objects (inner color, outer color).
New hotkeys:
LeftCtrl + D Delete selected object.
LeftCtrl + S Maintain aspect ration when resize objects (new feature).
LeftCtrl + R Enable rotation handle (new feature).
LeftCtrl + L Lock objects to prevent move by accident (new feature).
LeftCtrl + U Unlock objects and or disable rotation handle (new feature).
LeftCtrl + M Enable/disable move only (handles for move only, new feature).
LeftCtrl + T Enable touch mode (perform)
LeftCtrl + B Change font to BOLD on objects support labeling.
LeftCtrl + N Change font to NORMAL on objects support labeling.
LeftCtrl + P Open/close color palette.
LeftCtrl + G Enable/disable grid.
LeftCtrl + H Enable/disable align ruler.
New global config panel:
Handle Windows when unhide chameleon.
Disable Mouse on touch screen (this feature prevent mouse jump between dual or multiple screens when use chameleon)
Facebook, Twitter, Instagram: @SaveTheHuman5