[Sticky]

4 Deck Template for Traktor 3 - 1920x1080

4 Deck Template for Traktor 3   v1.5

This is the 4 decks template I use in the last years on my gigs, now updated to Traktor 3.
Important with every update of the template you need reload the file mappings on Traktor.
Main screen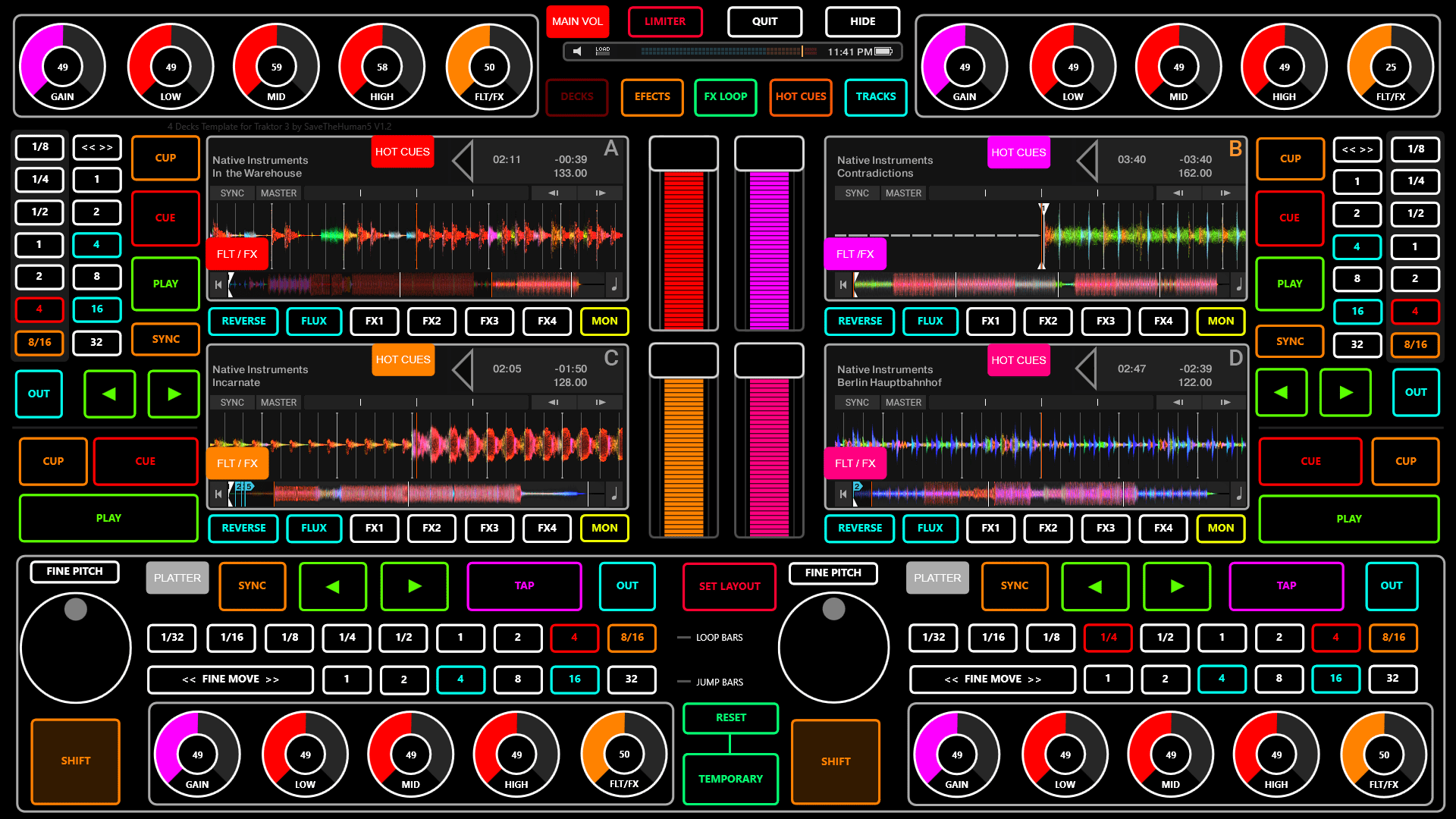 Some containers unfolded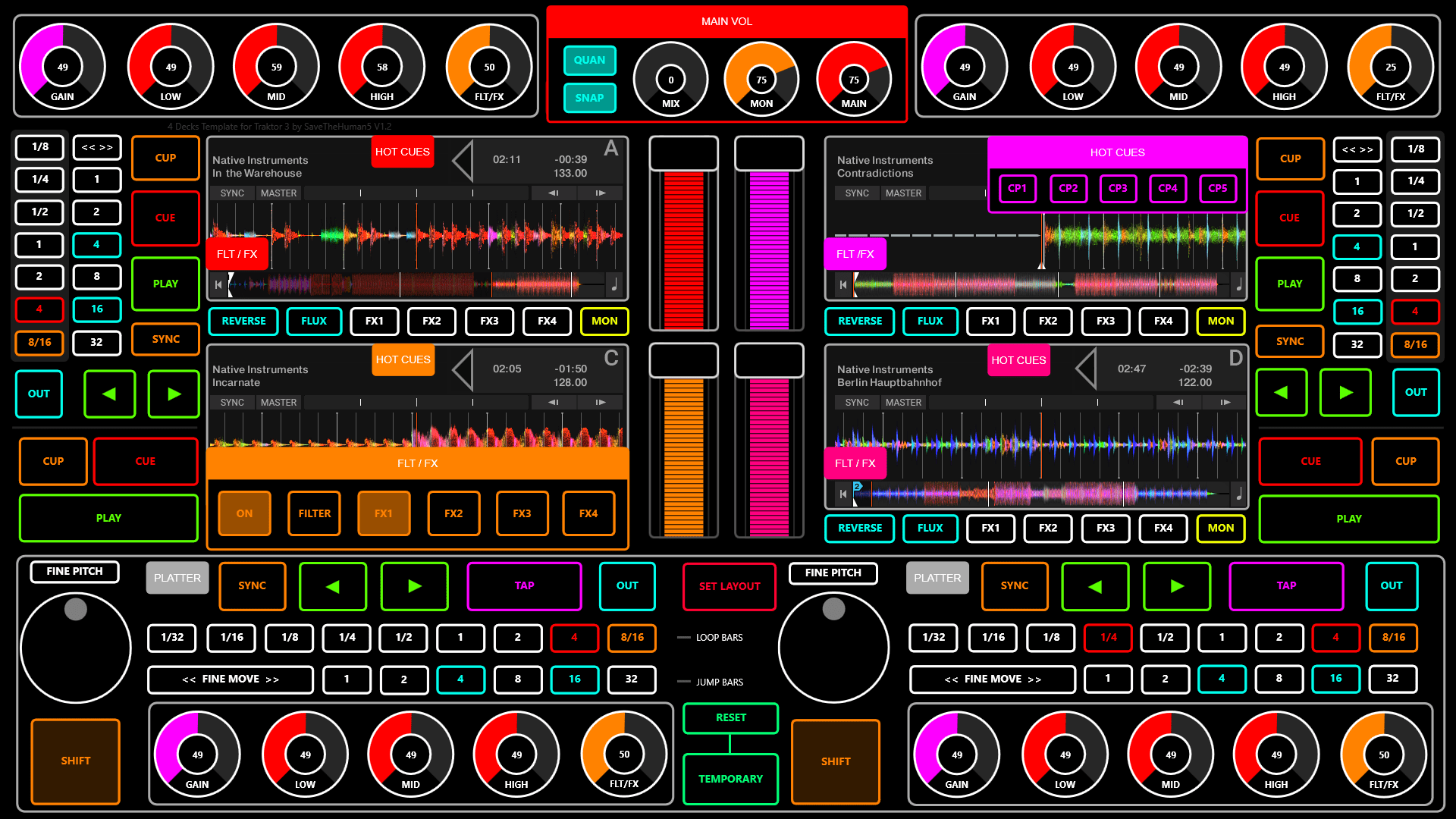 FX page: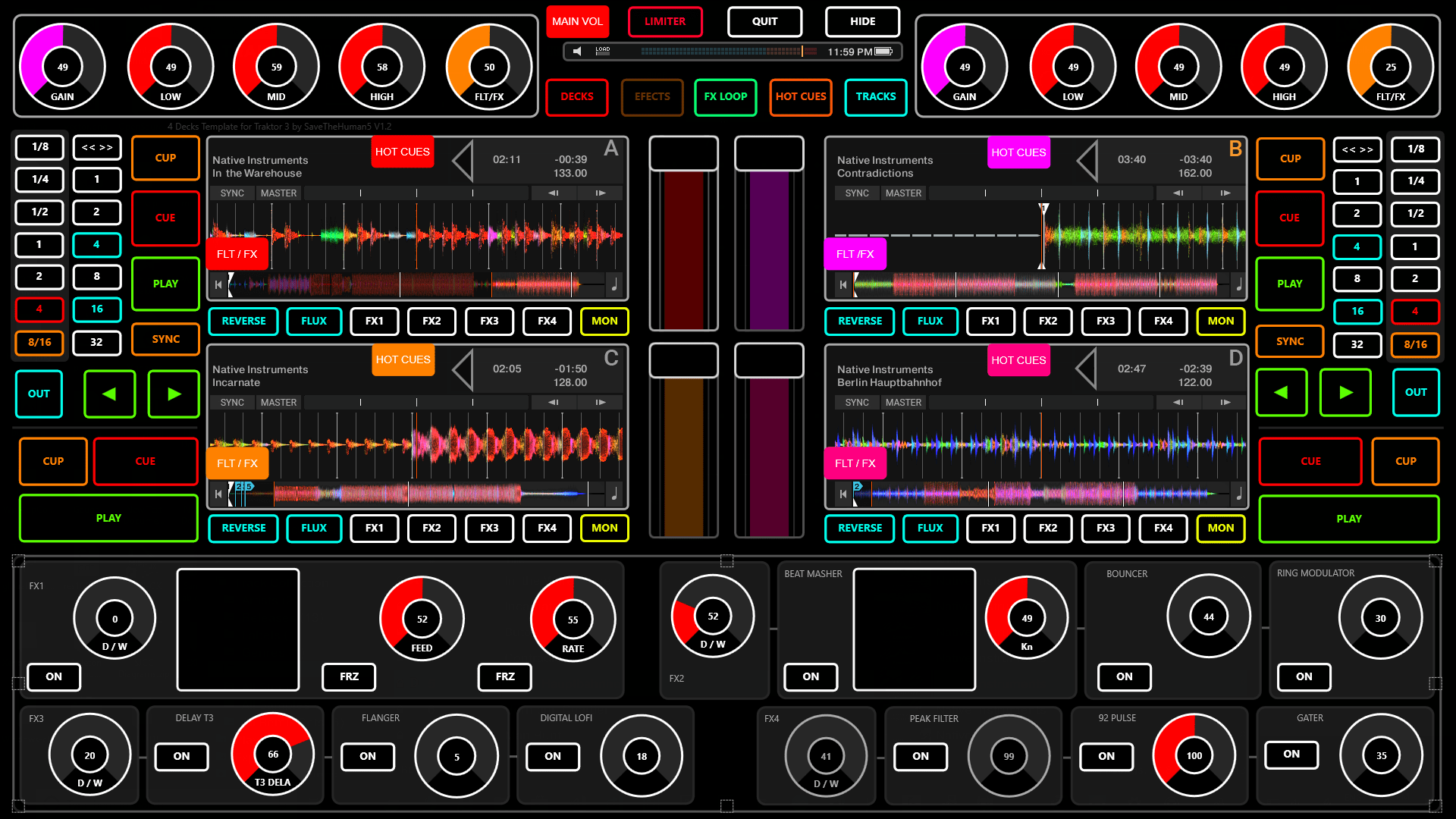 Flux loops page, just touch over the waves and happy flux looping! 🙂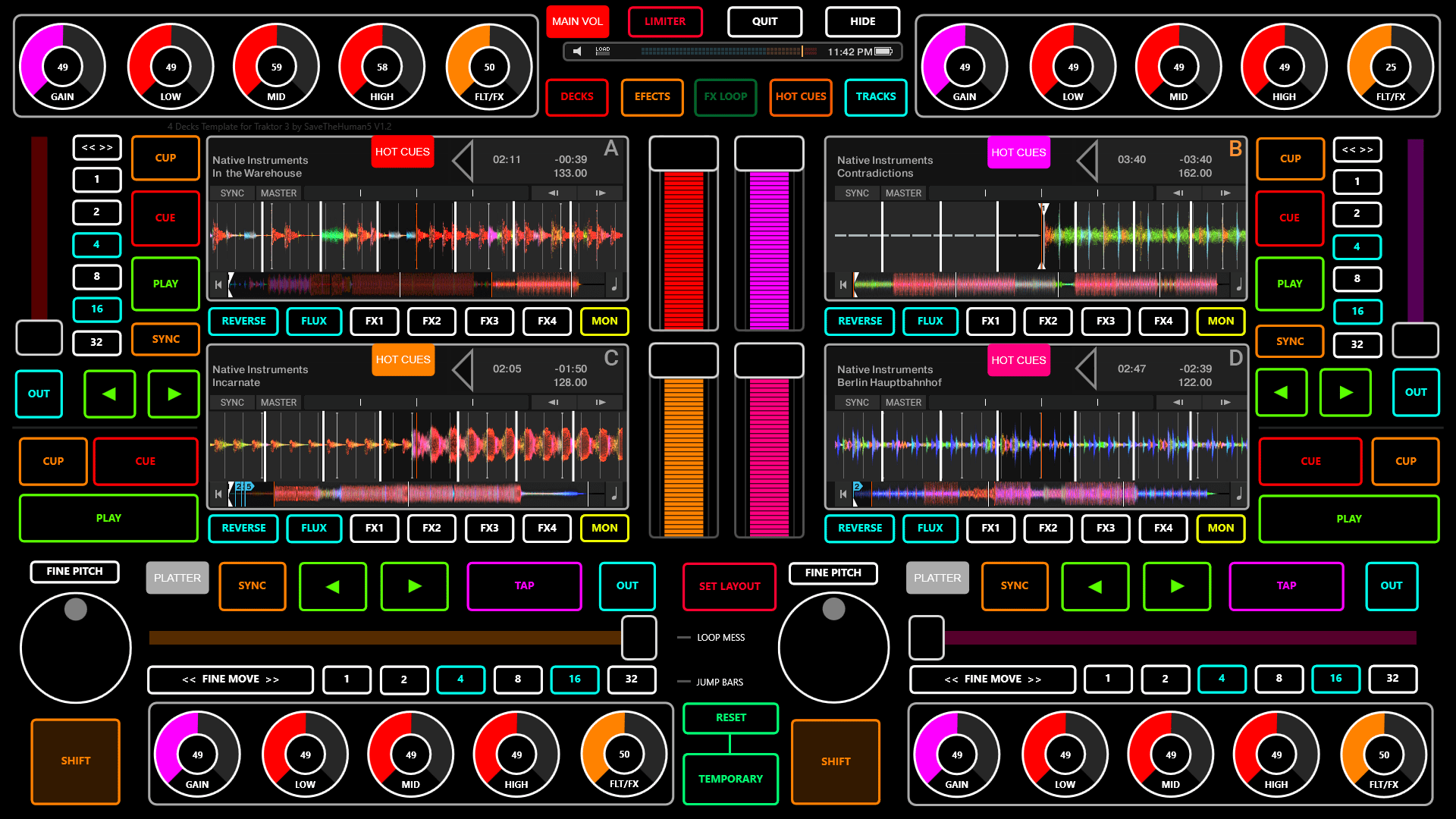 Music collection page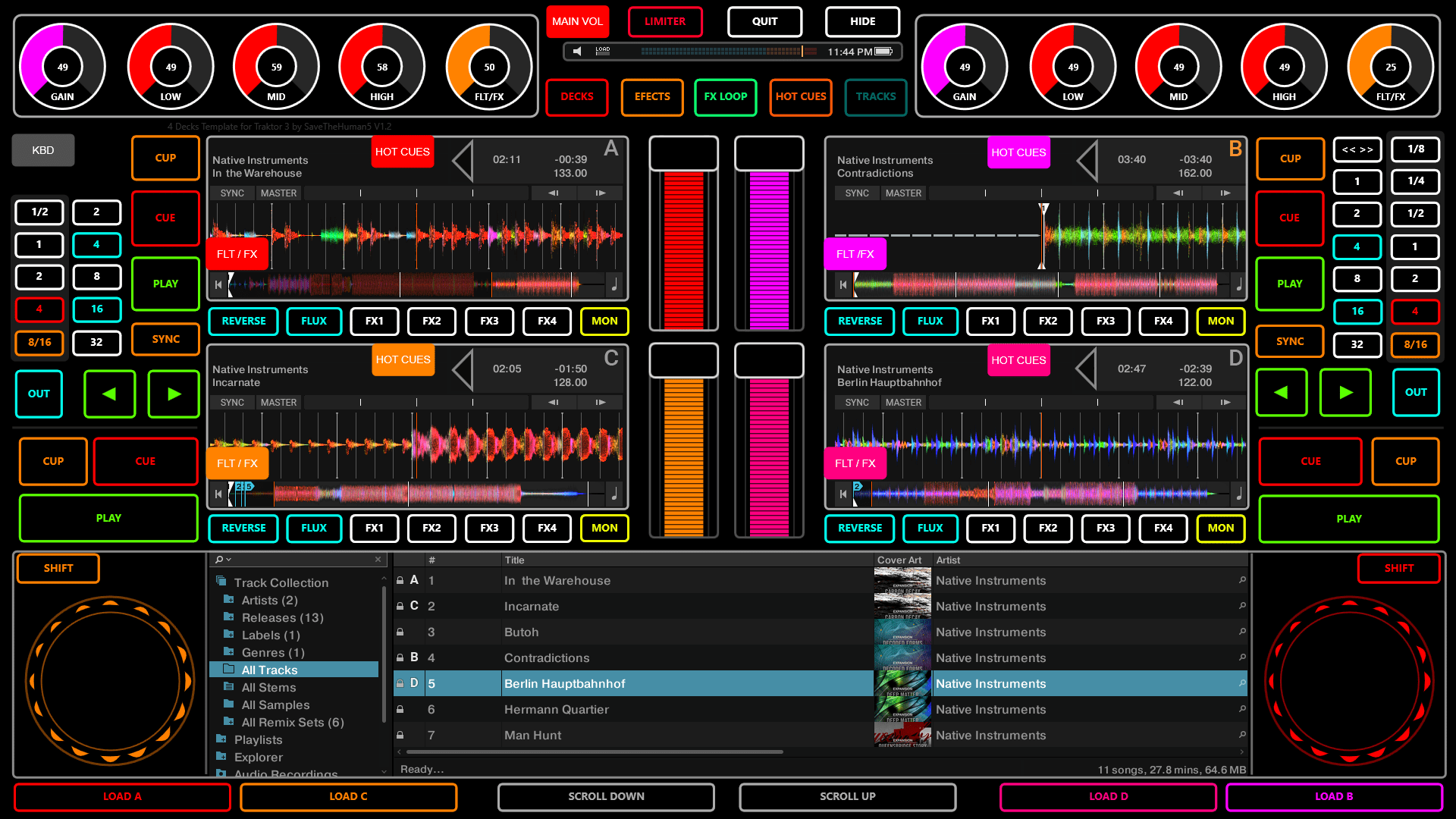 Oh yes! keyboard included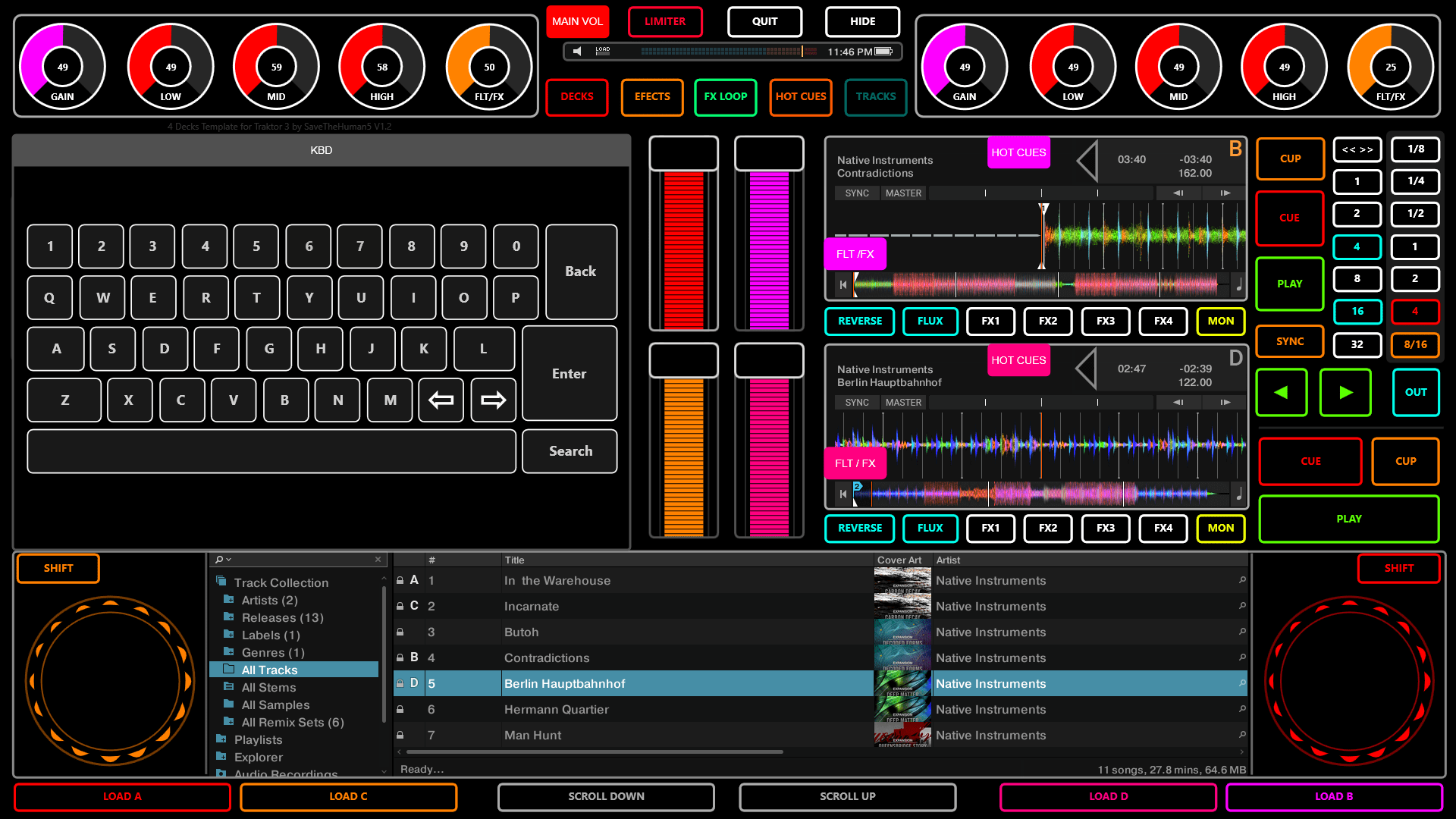 Hot Cues pages with 8 hot cues for deck A and B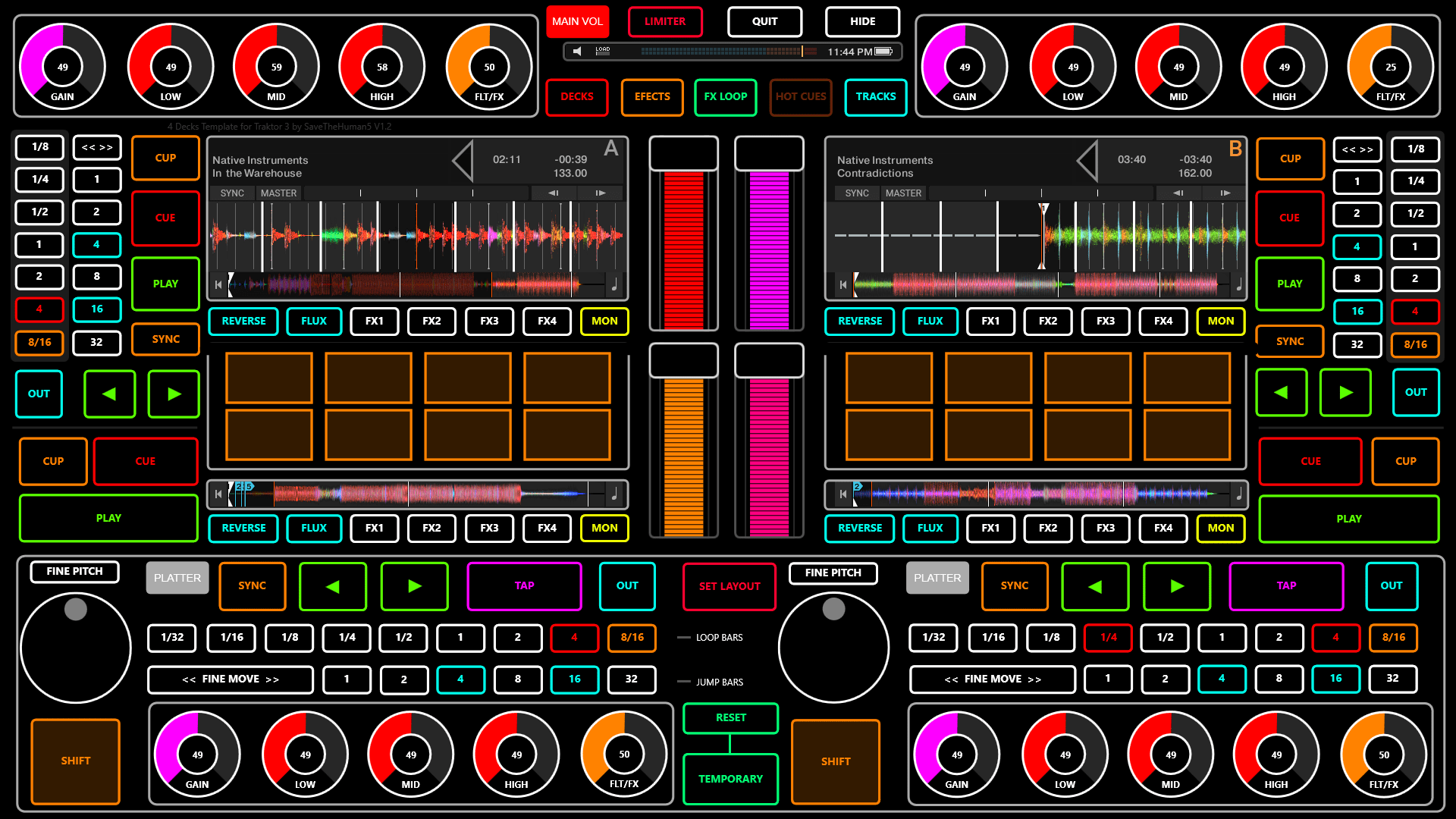 The template is free, you can download here in this post.
You cant test this template with demo copy of Chameleon.
Prerequisite is touch screen with resolution 1920x1080, more templates in other resolutions are coming.
Chamelon software installed.
Download the zip file, from inside the zip, extract folder Traktor inside DOCUMENTS >  CHAMELEON > TEMPLATES
After extract the file path should be this:
DOCUMENTS > TEMPLATES > TRAKTOR >  T3-4D-1920X1080.chameleon
After open for first time the template, the midi maps for Traktor will be extracted this folder:
DOCUMENTS > CHAMELEON> MAPS >  T3-4D-1920X1080.tsi
The .tsi  file is embedded inside the chameleon template file.
Import the file T3-4D-1920X1080.tsi in Traktor and setup MIDI IN and MIDI OUT to Chamelon:
This template not require external mixer, setup your audio outs master and monitor.
If you not have a sound card with 4 outputs, you can work in MONO and setup left channel to the Master Out and  right channel to the Monitor Out.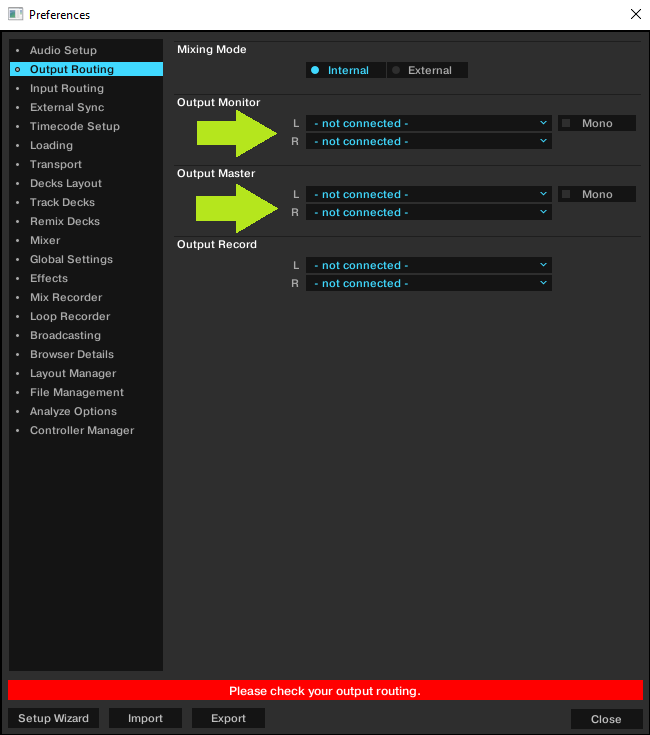 There is no comfortable and practical way to explain all features in this template just writing, a video is coming for explain every little detail on the template, stay tuned!
Anyway is easy to download, setup and start discover yourself.
Feel free to use for your gigs, or as inspiration for create your own template or if want ask how you can do anything I do in this template, just ask! 🙂
Facebook, Twitter, Instagram: @SaveTheHuman5
This template is updated to version 1.4
Please delete the previous MIDI map form traktor and form folder Documents/Chameleon/Maps/T3-4D-1920X1080.tsi
Delete the template, located in folder Documents/Chameleon/Templates/Traktor/TT3-4D-1920X1080.chameleon
Check the instructions on first post, re download and install!
Facebook, Twitter, Instagram: @SaveTheHuman5
how to programm the crossfader for this template? for traktor pro 3?
Hello!
I forgot reply your  post!! doh!
All what you have to do is just locate a crossfader inside some part of template and or delete some objects you not use, then just MAP to Traktor.
You need also a total of 8 buttons for select the corssfader.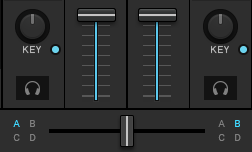 Crossfader not need be visible in Traktor in order to work.
Facebook, Twitter, Instagram: @SaveTheHuman5
forgot to mention that I only use two decks to get familiar with the system. but shouldn't be a problem.
Template updated to version 1.5 .
Is available within the installer 1.0.9
Facebook, Twitter, Instagram: @SaveTheHuman5