[Solved]

2 decks template for Traktor 3
Hello!
I've made a 2 decks Traktor template. But I have a problem with midi mapping.
I've often watched the video: 
But unfortunately there is no way to start the music by pressing the play button or go back to the cue at the cue button.
Can you help me how to do it?
Thanks in advance for your efforts.
Best regards,
MrVinyl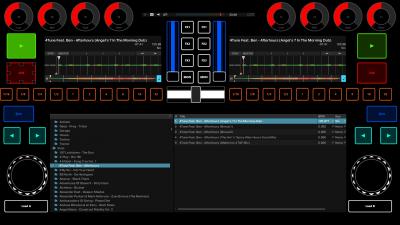 I suggest download the 4 decks template, you can find here in the forum, is a really very powerful template you can use for lean.
The amount of things mapped is really higher! and the template cant be used in lower resolutions, but you can open to learn, a .tsi is included.
Facebook, Twitter, Instagram: @SaveTheHuman5
There is many ways to map, buttons, also can be direct instead a hold buttons. Again i suggest check the 4 decks template with the included .tsi, before test that save your map, make a backup, delete your midi map and import the 4 decks.
You can also use that tsi,  all what you need to do is pickup a paper, take note of values mapped on the 4 deck templates, and just apply same values on you template.  Probably will be more faster than start map from scratch.
For sure will be great if you share your template when is completed : )
Here the 4 deck:
https://hi.computer/forum-community/templates/4-deck-template-for-traktor-3/#post-94
Facebook, Twitter, Instagram: @SaveTheHuman5
Facebook, Twitter, Instagram: @SaveTheHuman5
I got a little stuck at the loop setting. When I press the button on the Traktor to set the loop size to 8, it activates itself immediately, and the music play 8 size loop, when I press the button so that the loop size is 4, it changes to 4 in the Traktor program, but in Chameleon, the 8 loop button remains active, true to the music play 4 size loop.
How do I adjust when I press the 4 loop button after 8 loops to switch and not to activate the button, then press 8 again to resume.
I hope you understand something I am trying to explain.
Otherwise I am well on the way, the 4 decks template is great for me.
Hello again.
I back after some gigs, I never check how setup LOOP with feedback, as you can see on the 4 decks Template, I use a button for loop out, for sure that button indicate the status of loop, I never take a look on create a specific feedback duet you have that info on screen, I always see that way as the most practical way to work. No idea if apply for you.  Again, you can test on the 4 deck template.
Facebook, Twitter, Instagram: @SaveTheHuman5
Is there a template for parallel waveforms?
Hello again.
I not have on plans do a template for parallels wave forms, at least not right now. Create a template require some work but is really easy and is the best way to go in order to customize and use exactly what you need.    I start publish very soon some templates as a base of examples, is highly suggested create your own,  for sure can use that base templates as examples.
Question!  What is your screen resolution?
Facebook, Twitter, Instagram: @SaveTheHuman5
Using smithson-Martin ks1974its been everything but easy to get this thing in action... No one supports it, no one has templates, its got a serial number but I can't find it and its supposed to have lifetime licenses but you couldn't tell by the way I've had zero support returned in trying to get this sucker in action. I had to buy a whole new pc laptop to get any kind of use out of it as well as chameleon and tried to buy emulator 2 even though this bastard is supposed to be set for life....ii went to all Mac a couple years back and found a company offering drivers that allow it to run withou tbootcamp(which won't work I have a newr late 17 imac and iPhone iPad etc...) but its to expensive after all the upgrades controller software and time I have in this I'm exhausted to know my only ally thus far is virtual dj SMH