[Solved]

Bitwig to Chameleon not automating
Wonderful - I look forward to it : )
Hi! 
I see you request  something like a flying container, what I suppose is a container can be moved to any place of the screen, when is folded and also when is unfolded.
Ok I already create your FLYING CONTAINER.
There is only one limitation, flying containers cant be moved with TEST WITH MOUSE option or at least not in accurate way, I can improve that later, work perfect with touch and your finger.
This kind of container not have a lot of sense for some templates, but probably can be useful for users want have some kind of mini touchable/movable/foldable panel, built inside a container.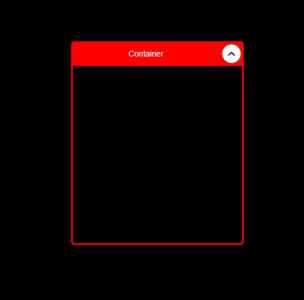 This work in a simple way, just drag with your finger the container form the caption area and position on any place of the screen.
Fold and unfold with a touch on the circular fold/unfold menu button.
Is a normal container can be converted in this special kind of container.
Again.... this is an unusual way of use a container, if I see more users use in this way, probably this can be improved in the future, anyway you have now what you need for your project.
In other hand, the upcoming version support send MIDI compatible Mackie MCU.
What are you bulding? something like a mini mixer inside a container with levels, per channel, rec arm, mute, solo, pan?
Please tell me more.
If that is what you are building the upcoming version offer a better way to do what you are doing just emulating a Mackie MCU.
Facebook, Twitter, Instagram: @SaveTheHuman5
Brilliant! Thank you. Yes, I had a desire to move the Container live with finger/mouse, so I didn't have to create it in the actual screen position to begin with when designing. I am not overlaying Bitwig, but creating a dedicated MCU style controller to use on a separate touchscreen. That is the goal, so yes, like an MCU with some control, but also like a console mixer to use live on a large 27" touchscreen because Bitwig prevents long faders and very hard to use multi-touch when restricted in height and using fingers. OSC excites me too of course, not just Midi CC and MCU control.
Ok, that is all.............new version is ready, just need make a final check , compile and prepare the installer.
Here your panpot: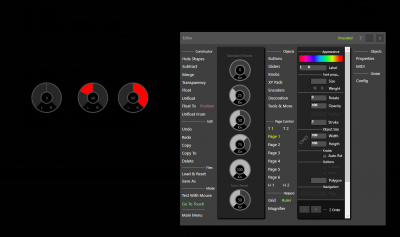 Facebook, Twitter, Instagram: @SaveTheHuman5
Facebook, Twitter, Instagram: @SaveTheHuman5
Sam I have ready probably this night MCU display, ASAP I have ready and fully tested, I publish a MCU template.
I think will be more useful for you, for sure the knobs used are encoders, and value per channel appear on the MCU display.
More info soon.
Facebook, Twitter, Instagram: @SaveTheHuman5
where can i find this mcu template ?