[Solved]

Chameleon 1.0.9 crash's and don't save my old or new Templates!!?
Hello Pablo
My Issue is as stated, I can't save my Templates neither my old nor new ones, chameleon just crashes!?
I tried different things like:
Restarted the computer after chameleon 1.0.9 update installation
Starting as administrator, system and user wide
Using another save location like desktop and other hard drives
I didn't install any midi driver or other driver for at least 10 months
I just have one suspicion, I disabled system broker manager, I had some performance issues.
Maybe chameleon needs this service, in order to write to the hard drive...., I don't know??
Is there crash file from Chameleon somewhere that I can find and provide to you...?
Hi, no exist any crash log.
Chameleon just usually not crash.
Have a chance to test in  a second computer ?
Can send one of your older templates to me?
That older templates are created on what version of software?
Can create a template with just one button inside and then select save......that action crash the software?
Already try enabling system broker  again and all what you disable?
Facebook, Twitter, Instagram: @SaveTheHuman5
Sorry for the late replay, I live in Middle Europe, so time for you and me is different.
No chance for me to try it on another PC!
The older template is made with 1.06 or 1.07(I Give You The Download link*)!
I created a template with just one button, but nothing changed, it just crashes to desktop!
And I enabled system broker manager, but no change!
Link*:
REMOVED.
Load here without trouble.
After load can save also.
I don't know what services you disabled, can provide a full list?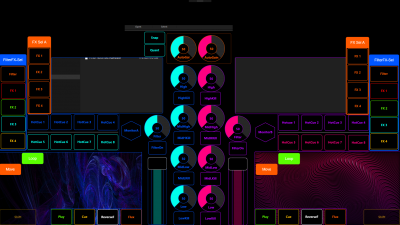 I think the only way to debug will be you run anydesk software and provide to me with access to take a look in your computer.
Facebook, Twitter, Instagram: @SaveTheHuman5
I already gone truth everything with system broker service off an on, but nothing changed!?
And there is just one thing I changed the last 10+ month, and that is system broker manager(About 3 Months Ago) and chameleon updates.
The service is up and running right now.
I don't update my audio and other apps very often, just 1 or 2 times a year.
If everything works, then I don't update!
Facebook, Twitter, Instagram: @SaveTheHuman5
Problem fixed using remote access, not is a direct bug on the software is a  un-handled exception.  [email protected] try to write/save template outside the default folder for templates what is granted by windows to allow write files. More info how use save and about folder structure, updated link:  https://hi.computer/chameleon-user-guide/#saving-a-template    Knowing what happen  here, now I  plan add exception handling and some rules to prevent this happen to other user in the future.
[email protected] also use UAC disable, what probably (or not) can be also responsive of the problem. Sorry I not take a deep look on that, UAC need be enabled.
Chameleon need run with elevated privileges and UAC need be enabled,  any action of disable security of windows can cause problems.
Is really extreme bad idea disable UAC.
Facebook, Twitter, Instagram: @SaveTheHuman5
Facebook, Twitter, Instagram: @SaveTheHuman5