[Sticky]

Wireless midi control using CopperLan & Chameleon.
Chameleon can control software via wi-fi in many ways. This illustration uses a wired desktop pc , laptop & additional software name CopperLan.. The desktop is named Intel & Laptop is identified as Dell... The video is widescreen & the image is an animated gif.

Installation
Download & install CopperLan on both devices.
Launch Chameleon on the main pc.
Select a network in the CopperLan manager on both devices . ( The laptop may show more than one network in the settings )
The devices will pair & auto detect each other if it's a successful connection.  Adjustments & midi channels can be selected ,created & deleted on any computer once they are connected & they will auto update & auto save.
Midi Channel.
CopperLan uses tabs with labels & the ports cannot be renamed.
Click on the device which hosts Chameleon
Select Midi Chameleon
Select virtual midi cable
Select add a midi cable to the second device
Select the midi channel ( Vmidi )
The new midi channel & pc / laptop id will appear in the midi options software.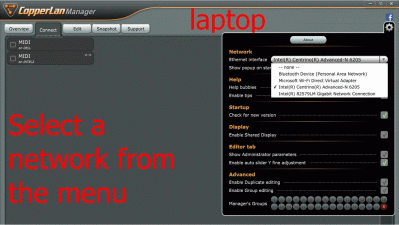 Summary.
CopperLan needs to be installed on both computers. The network also needs to be individually set on both computers.
Any  latency , connection or security issues are unrelated to Chameleon.
Chameleon will show as a midi input on its nearest host & Vmidi will show as a midi input on the second pc.
The two or many more devices will receive & transmit midi.
Tabs cannot be renamed & are erratically displayed in the software.
Advantages
Chameleon can potentially control more software exclusive to Apple Mac. ( Logic Pro.. Garageband.) It can also be used to crudely control household like lighting or heating using  7 bit midi  (But Additional software will need to be installed on the Laptop )
Versions of CopperLan can run older operating systems which is ideal for Daw farms & users with redundant or abandoned software or plug ins.
Ive not fully tested the latency but I never experienced any issues.
Disadvantages
CopperLan is incompatible with Android or ios
The Author has a similar guide & links for Copperlan & external hardware here. 
https://hi.computer/forum-community/troubleshooting/sending-midi-to-external-device/#post-16
This topic was modified 4 months ago 14 times by
tific
No.......... thank you Sir ..It was just an expansion of your guide & some content which may be useful for a video channel.
I have a technical query about Rtp midi as i'm still looking for a simple solution to Chamelorise Android & Ios devices. Am I correct in thinking that virtual drivers cannot communicate with each other?
Only drivers to hardware. 
Could Chameleon function with an alternate virtual midi driver ?
Facebook, Twitter, Instagram: @SaveTheHuman5
Could Chameleon function with an alternate virtual midi driver ?

 
Not understand your question.
What is alternate MIDI driver?
Using CopperLan then you can expand chameleon conectgion to local machine, to external MIDI dirver and to wi-fi or LAN.
You can use CopperLan as an advanced MIDI patchbay.
Facebook, Twitter, Instagram: @SaveTheHuman5
I use Virtual MIDI SDK from Bome,  and is deep integrated with Chameleon, for sure not is a free driver.
There is no reason to think the MIDI driver wont be available in the future, and if that happen can be replaced in easy way.
I just use this SDK duet is the best virtual MIDI driver exist in terms of resources and performance + deep integration.
Bome software provide great software  since 1996,  yes 20 years on the business!!   (another reason tor trust on Florian Bome and his team)
I are a customer of their creations since 1997 or something like that (cant exact remember), the first software I use from Bome is the CS1x editor

🙂
Major part of Chameleon user just need sent MIDI to another app in the same computer and is exactly how Chameleon work out of the box.
In case of advanced user like you, where need send to multiple devices internal or external or trough Wi-Fi,  cross platform etc, CopperLan is the best FREE friend to combine with Chameleon. 
Bome MIDI translator is another GREAT commercial tool for do cool things, when is combined with Chameleon or Elephant etc.
I sold my CS1X in the year 2001,   in 2018 back to me in a really incredible way..........but back ultra broken!!
Display cracked, a lot of dust............. I think is dead!
I decide connect to CS1X editor on a virtual machine!! and know what ?  My CS1X work the MOBO is alive!!    and CS1X editor also work!
I have plans now to do some nice wood case for the older CS1X  (MOBO only) and leave here on my studio forever!!   and use the Bome editor to program the synth.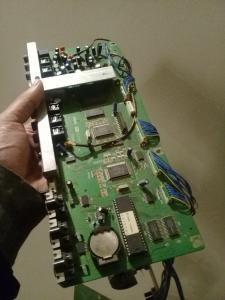 Facebook, Twitter, Instagram: @SaveTheHuman5